The amalgamation of Chinos and shirts is a style worth living for. Chinos are pants which give jeans a solid fight for the throne of the coolest pants for men. There are many shirt styles to be sported with chinos which vary due to different moods and occasions. To put it in easier terms, let us first understand the different styles of chino pants. There are basically 3 types of chinos for men which are
Casual Wear Chinos
Office Wear Chinos
Smart Wear Chinos
Casual wear, as the name suggests, is mostly used as a regular wear. A little bit crinkled and available in more colours signifies the chino style.
Office Wear has a bit of formal flair with tighter and heavier material and bolder darker colours. They also have a higher rise in the waist area.
Smart Wear is kind of a hybrid of the above two. Slim fit, straight and perfectly tapered are a few recognitions of the smart wear chinos.
Now whether you wear full sleeve t-shirts, designer shirts or polo tees, you must realise what goes best with what. Before buying the best chinos for men online, check out the following styles: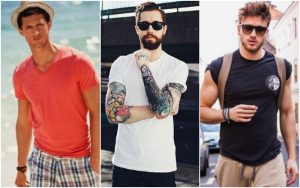 Light blue casual shirt plus Khaki chinos :
'Smart man and his smart outfits'. The khaki pants denote a bit of earthiness and pairing it with a sky blue smart fitting shirt will give the feeling of horizon, where sky and earth meet. This is perfect as party wears or to revive the rockstar college boy look. Wear a smart fit chino with narrow flares and white sneakers to carry your style with flamboyance.
Light coloured half sleeve shirt with pink chinos :
Who says pink is for girls. Those who believe in such ersatz theory have boarded the improper train of thoughts. Pink chinos with mild hues can make the best chino colours for men. A light coloured half shirt will be perfect with the outfit. Go for straight cut office wear chinos which you can wear as hangout outfit style with friends. You can also carry this style to your office on certain days. Two footwear styles you can follow are sockless red boat shoes if you're wearing a blue sports blazer or indigo loafers if you're simply wearing the outfit.
Red chinos with V-neck white or floral casual t-shirt :
Many consider anything red for men as pants are a disaster. The curse may come true if you do not follow some fashion rules properly. White v-neck cotton graphic t shirts online India above red chinos will make you look better than any outfit style you can imagine. Now, how to double the impact of your sartorial fash sense- first of all do not wear too bright red chinos. A faded or matte shade of red and a bit of baggy casual chinos should be on your radar. Secondly, a pair of white shoes with red soles to complement your overall outfit making you look perfectly rad in red. Another ingenious decision you can make is to go for a mellow floral t-shirt. Fold it up from your ankles twice with a fabulous pair of espadrilles on your feet and black wayfarers on your eyes and Bingo! There thou art Mr Handsome. Also for women, white fancy tops online above red chinos will make you better.
Cocoa brown shirt with white chinos :
A smooth combination of white chinos and cocoa brown shirt can be fantastic outfit style to follow especially during summers. The colour white itself radiates a sense of cleanliness and brightness so a contrasting dark shirt with cocoa brown shades to pair with the whites is totally a dope decision. Wear a slim leather belt black in colour to complete the look. The shoes you can go for are espadrilles or loafers either without socks.
White formal shirts or navy shirts with black chinos :
Your wardrobe can never be complete without a pair of bold black chinos. Black chinos for men play a magical role when it comes to looking fashionably stunning. To make it even better, wear it with a white formal shirt to make a compromising office outfit. If you think the black and white combination is too mainstream for you then you can easily switch to the next option which is a navy shirt. The navy blue colour has quite a royal appeal and will work perfectly with black. A pair of yellow sneakers or moccasins will make you look spectacular as a person. You can sport this style in your office, while travelling or for simply chilling out with your buddies.
Chinos are perennial dresses and quite comfortable too. When you wear a particular shirt & chinos with backpack online India, try to visualise a stylish version of yourself in it and then go for it. A hint you can keep in mind whenever you're going for stripes, prefer vertical over horizontal since the former creates an image of a taller person. OR, if you looking for checkered styles, then go for the ones with larger squares. Get some awesome chinos for men online and uncontrollably hot.