MS Outlook is a feature-rich extensively used email application. However, like any other application, it has its own set of issues. Some of these issues occur more frequently than others. In this article, we will be addressing one such error that Outlook users encounter quite often: Cannot open your default email folders errorin Outlook 2010, 2013, 2016. Let us understand this error and the reasons behind it in detail before moving on to the solution.
Reasons for Occurrence of the Error
This error is quite common among the Outlook users across the globe. But not being able to access one's Outlook profile can distress anyone who is not aware of it. There are a variety of factors that can cause this error:
Corrupt OST file: Any form of corruption or damage caused to the Outlook data file results in the occurrence of this error.
Corrupted Navigation pane settings file: Microsoft claimed that this is the main reason behind the error. The corrupted navigation pane file will be of size 0kb.
Compatibility mode: It has been noticed that this error may also occur when Outlook is running in compatibility mode.
Methods to Resolve the Cannot Open Your Default Email Folders Error
Recover Navigation Pane config file: Run Outlook.exe/resetnavpane to reset the settings in navigation pane file.
Disable Compatibility mode: Go to Properties of Outlook.exe file and disable the "Run in compatibility mode" checkbox.
The Corruption of navigation pane file & compatibility mode is very less likely to occur and hence less likely to have caused this issue. However, if they do occur, we can use the given ways to resolve Cannot open your default email folders issu in Outlook 2016, 2013, 2010.
Repair the corrupted OST file: The most disastrous reason behind the error is OST file corruption and in such case, a user may lose the entire data. There are some methods used to resolve the OST file corruption.
Use scanpst.exe.
Restore the corrupted file from a recent backup
Convert OST to PST and save all the data.
Scanpst.exe is an inbuilt Outlook utility which only repairs minor corruption of OST file and hence is not very useful in most cases. Also, it is impossible to have a recent backup of the data file every time it is damaged or corrupted. No matter how recent a backup may be, there always will be a gap between the backup time and the corruption time. Therefore, the best way to resolve the Outlook OST corrupt file issue is by converting it to PST and saving all the data.
Efficient Solution to Fix the Issue
As explained above, the best way to resolve corruption issue and fix Cannot open your default email folders error in Outlook 2016, 2013, 2010 and save all data. And the best method to achieve that is by using the SysTools OST Conversion to PST Tool.
It is a remarkable software which analyzes every bit of data in OST file (emails, calendars, contacts, tasks, etc) and converts them into Outlook PST format. The entire process is safe and automated without any threat of data loss at all. Some of the proficient features of the tool are as follows:
Converts data from multiple OST files: Emails, Calendars, Contacts, Tasks, Journals, etc to PST
Previews all data items along with attributes and attachments before conversion
Supports restoration of deleted data from OST mailbox
Supports data recovery, backup and extraction of all items of OST file
Provides data export by specific date using inbuilt Date Filter
Procedure to Resolve the OST File issue
Follow the mentioned steps to fix the OST file issue by converting Outlook OST to PST in a few clicks:
Launch the software and add the corrupted OST file byclicking on Add File button.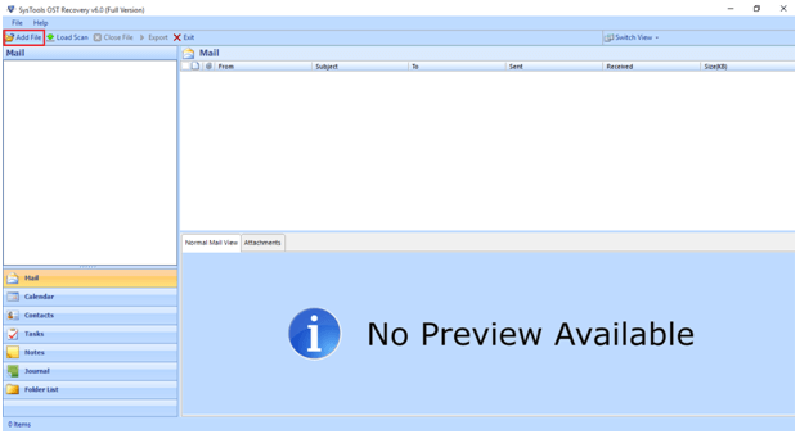 Locate the OST file to add. Once added and scanned, the tool will preview all the data items within the OST file along with attachments.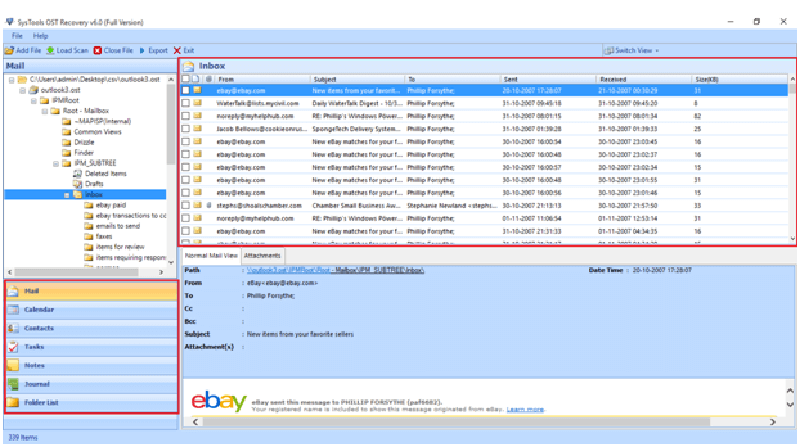 Select the desired emails or folders and click on Export button to migrate multiple emails.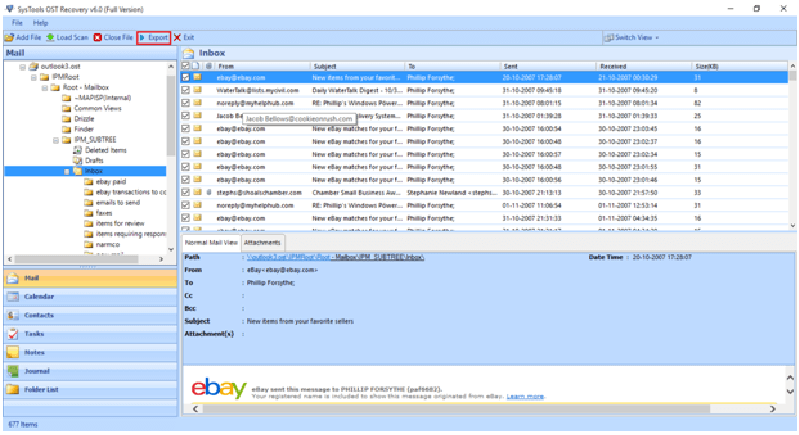 Click on PST radio button to export the OST files to Microsoft Outlook PST format. Click on Advance Settings to apply date filter, split options and categories as per your requirements.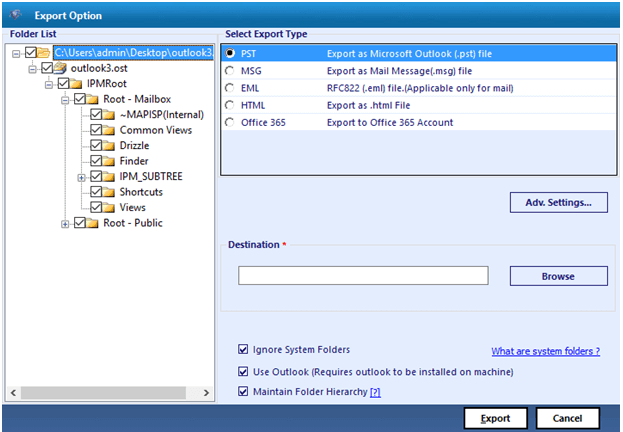 After saving the desired settings, Browse to the destination where you want to save the exported file. Click on Export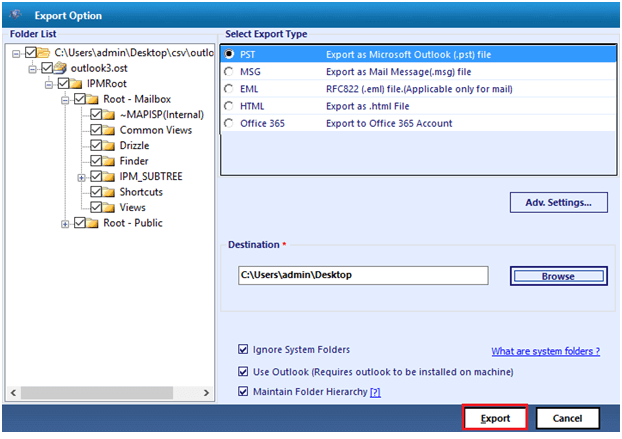 A notification window will confirm the successful completion of the export process. Click OK

The file conversion is completed. Now you can easily import the recovered PST file in Outlook without having to worry about the occurence of the error.
Conclusion
The Outlook error Cannot Open your Default Email Folders can be caused by a variety of reasons. Some of these causes are more significant and difficult to handle than others like the corruption of OST file. However, the mentioned automated tool is a reliable and easy-to-use solution to this OST file issue. This tool approaches the OST conversion and corruption issues professionally and lets the user extract all data securely from the data file.